The SPCA called to say that they needed help with a pig rescue. When he arrived at the location they gave him, Mike could see that this was a horrible neglect case.
Sickened, his first thought was that he'd never seen so many piles of dead animals. There were ten large animals left and he took nine of them. The tenth was a bull that he had already found a home for.
The property where the neglected animals were being kept was managed by someone with an auction. This person was getting animals for a low price,  was then putting them on this leased land, and was not feeding them. The smaller animals were eating each other.
Mike took the nine and dropped the bull at his new home. All of the animals were emaciated and starving, including Grover. The people involved with the neglect were prosecuted and were found guilty of animal neglect with fines, probation, and a lifetime ban from owning animals.[/vc_column_text]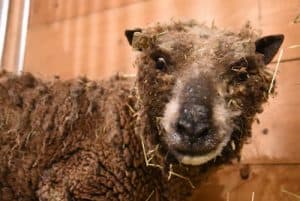 Sponsor Grover
[/vc_column][/vc_row]